Audio Player Plugins for WordPress
You hardly need an expert to tell you the impact music has on people's lives. Listening to and playing music can even promote good health. What other medium speaks to such a wide audience? What else so strongly connects a variety of people with each other?
WordPress has built-in support to handle audio files in various formats. It can automatically embed an audio file in a supported format, but what if you need more features like playlists, customization options, etc?
---
Adding music to your site, whatever your reason for doing so, gives it an extra appeal that will bring site visitors back and help you connect to your users. No matter your budget, there's a music plugin for everyone – hopefully one of the plugins listed below is the perfect musical accompaniment for your site.
Audio Album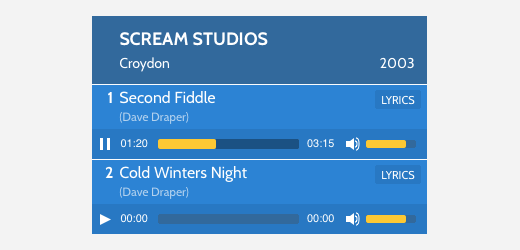 Audio Album plugin is written for the purpose of displaying audio playlists and albums using the built-in WordPress functionality. Audio Album extends this functionality by offering an easier way to style your media player and the appearance of your albums.
It can also be used to add single tracks. The plugin comes with easy to use shortcodes that offer plenty of options. It also provides a basic stylesheet that you can edit to customize the media player.
Audio Player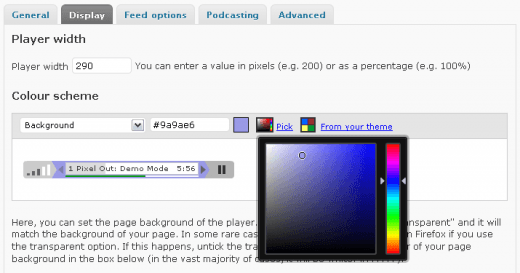 The Audio Player plugin has a number of available options that make this a very nice player.
In the settings, you can customize the player in a number of different ways, changing the color of every aspect of the player. You wouldn't think that such a small player had so many different parts to it till you start customizing. One of the most convenient settings is the size. While it's always going to be narrow (i.e. short in height), you can control the width of it.
Audio Tube


If you like getting your music from YouTube, you can use Audio Tube to embed YouTube videos as audio files within your posts and pages. It works by stripping the video from the file, leaving you with just the audio. This free, responsive plugin comes with a number of shortcodes for customization, such as looping, size and autoplay. AudioTube is a great way to share your favorite music, or even to promote your own if you have a YouTube channel that you upload to.
Background Music Player Lite


For an easy way to share audio clips and videos on your site, try the Background Music Player Lite plugin. This plugin enables you to stream tracks and radio straight onto your WordPress site, and you can even customize the playlist for each post or page.
Background Music Player Lite is a simple to use, stylish plugin with plenty of customization options and your visitors can open the player in a popup. It's fully responsive and compatible with all major browsers; a great choice for someone wanting background music for their site.
Blubrry PowerPress Podcasting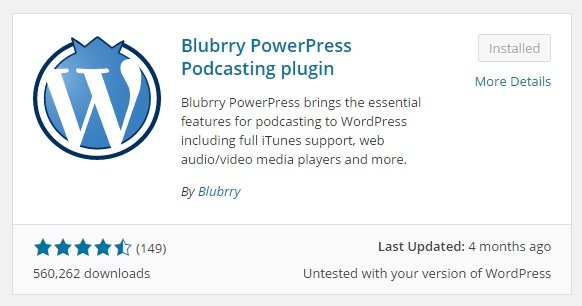 Blubrry PowerPress Podcasting is the best WordPress plugin for podcaster. It is a powerful, feature rich solution designed specifically for podcasting. It works with any hosting solution, but it works particularly well with Blubrry a hosted solution for podcasters.
It optimizes your podcast files for SEO, allows you to manage your podcasts efficiently, and more importantly it allows your users to easily subscribe to your podcast.
Compact WP Audio Player

Compact WordPress Audio Player plugin is a Html5 + Flash mixture based WordPress plugin which might be utilized to implant a mp3 sound document on your WordPress post or page utilizing a shortcode. The sound player is adorable and minimal and will play on all major browsers. A Compact WP Audio Player Pluign that is perfect with all major browser and gadgets (Android, iphone).
CP Media Audio & Video Player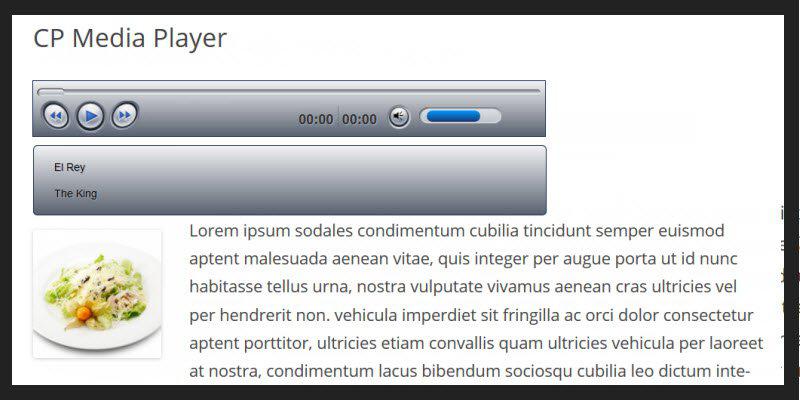 The CP Media Player lets you play both audios and videos. It lets you create lists, and it also lets you hook into PayPal so that you can sell audios through the player.
While you can change the size of the player to some degree, in the free version you are limited to one style and only one player.
Cue

Got a lot of music, and want a fun way to integrate it with your WordPress site? You can do that with the Cue plugin. Upload audio files to your media library, or link to other music sources – whichever way you get your music, Cue uses a widget, shortcode or template tag to display it anywhere on your site. It's also fully responsive,  and has a simple drag-and-drop interface so you can easily reorder your tracks.
Flash MP3 Player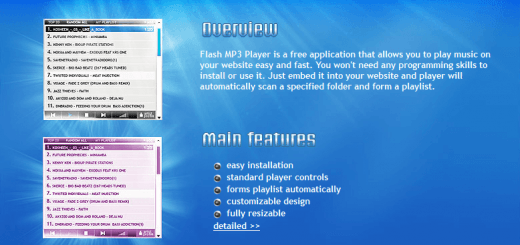 Flash Mp3 Player is a free plugin that permits you to play music on your site simple and quick. You won't require any customizing aptitudes to fix or use it. just implant it into your site and player will immediately check a specified organizer and structure a playlist.
HTML5 jQuery Audio Player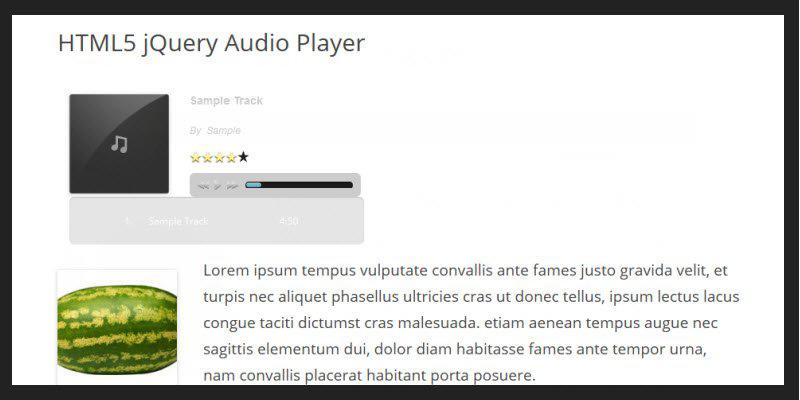 The HTML5 jQuery Audio Player has a sleek, modern look and uses shortcodes to add either full playlists or single audio tracks to your site, depending on what you want to offer your fans. It's great for musicians because it integrates with the Easy Digital Downloads plugin to help you sell your music.
The Pro version is fully responsive and offers widget support and a playlist manager so you can easily reorder tracks. You can also add cover art and ratings, making your page more colorful and getting customers interacting with your site. Both Lite (free) and Pro versions work well on all major browsers and mobile devices.
HTML5 MP3 Player with Playlist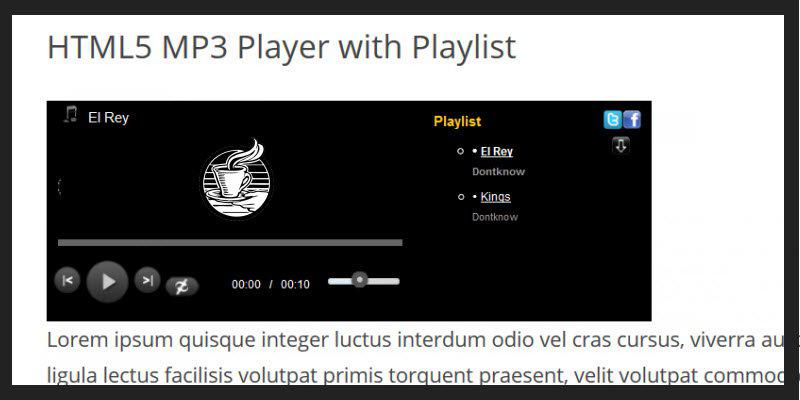 This plugin lets you create a list, change the appearance, add images, and even allow downloading.
In addition, you can also add links to your social media profiles. It allows autoplaying and title scrolling.
Music Store


For any musician, being able to sell your music from your WordPress site is definitely a useful option. Music Store is exactly what its name implies: an online store for selling audio files. It has an audio player that is compatible with most browsers and mobile devices and supports .mp3, .wav, .wma and .oga files.
This plugin has both free and Premium versions, so it's easy on most budgets. The Premium version includes more features, such as secure audio playback, the ability to group singles into collections, and the ability to insert a song or album into a post, page or template – all great ways to share your music.
Simple Audio Player


Simple Audio Player is a comprehensive audio plugin for WordPress. Instead of using HTML5 as the default playback option, Simple Audio Player uses flash as the default and HTML5 as the fallback.


The plugin also provides easier options to change the color and size of the media player. Simple audio player plugin lets you enter audio playlists and tracks using a shortcode.
Simple Music Widget


Simple Music Widget adds an audio player widget that you can add to sidebars on your WordPress site. It is particularly useful if you want to display media along with other content on your website.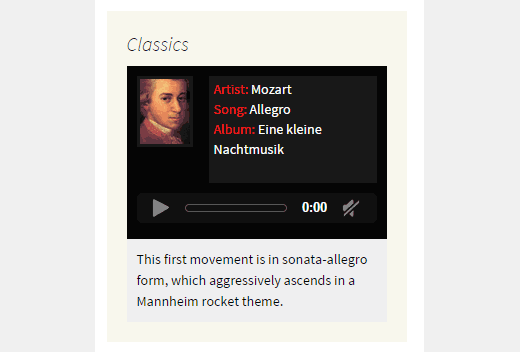 Simple music widget is extremely easy to use and comes with its own widget settings.
SoundCloud is Gold


As the name suggests, SoundCloud is Gold is a WordPress plugin for SoundCloud. It allows you to easily manage your audio files hosted on SoundCloud. WordPress automatically embeds SoundCloud files using the oEmbed protocols, but this plugin allows you to do much more than that.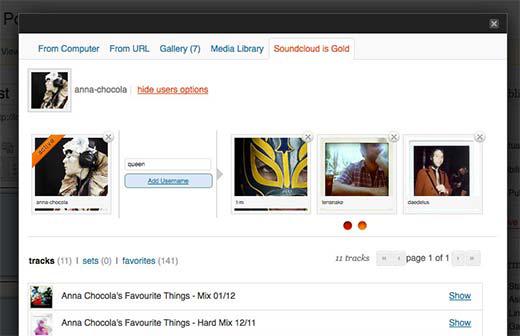 You can manage your SoundCloud files from within your WordPress admin area, add files to your posts and pages without leaving the post editor, and add albums / playlists on the fly.
SoundCloud Master


SoundCloud is becoming very popular as an audio distribution platform. Showcasing and selling your SoundCloud content on your WordPress site is easy with the SoundCloud Master plugin.
The free version gives you a widget to display on your site, as well as Lyrics and Connect buttons. Upgrading to the paid version enables you to customize the widget or use shortcodes to embed music on your posts and pages – and you can show either a single track or a whole playlist. You can also add artwork and links for downloading and buying music.
Soundy Background Music


Engaging your visitors isn't hard when you add background music, which Soundy allows you to do with just a few clicks. With this plugin, you can use the HTML5 audio tag to embed soundtracks directly into each page or post. What's more, you can set an audio file as the default for every page, or you can customize what plays on individual pages.
Soundy enables you to use audio files either from your media library or from anywhere on the web, so it's easy to play whatever music you want. You can position the play/pause button wherever you want on the page, and the Premium version enables you to customize the button's design to match how your site looks. Soundy doesn't include a huge amount of features, but its simplicity and ease of use is what makes it appealing.
Spotify Master


Are you a fan of Spotify? Now you can integrate it with your site using the Spotify Master plugin. Built with HTML5, this plugin is fully responsive and loads quickly. You can use the widget to display your music, albums and playlists, depending on what kind of experience you want for your visitors.
If you opt to upgrade to the advanced version you can also use the TechGasp shortcode framework for putting your music on all pages and posts.
Total Control HTML5 Audio Player Basic – WordPress

The Total Control Html5 Audio Player is jquery plugin that streams sound and characteristics a sensible playlist. Playlist lines might be relocated to improve tune request. Likewise, clients can pick which tunes are to be skipped when repeat.
WordPress Built In Player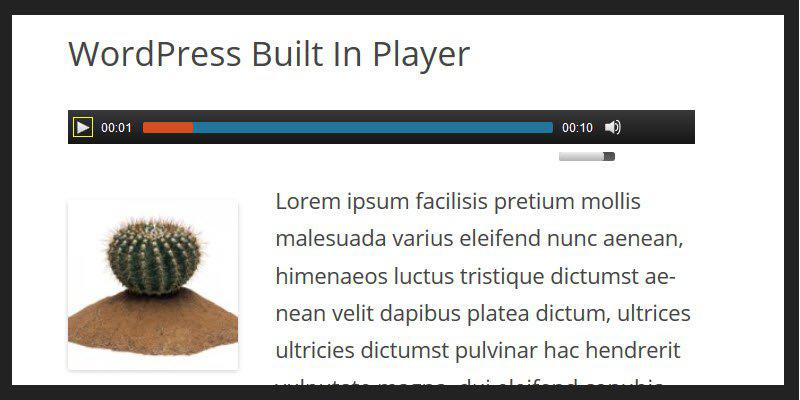 You can either just put the URL of an audio file on a line by itself, or you can insert audio as you would an image from your media library, and the WordPress system will place the appropriate shortcodes into your site.
By default, the player stretches all the way across your content area, and it has a volume control on it.
But you can do a few other things as well, such as set it to autoplay or set it to loop.
WordPress Music


For another background music option, check out WordPress Music. This plugin is free and easy to install, and since it's already fully integrated with WordPress it doesn't add extra load time.
While it doesn't play music from your own playlist, WordPress Music does have an extensive catalog that doesn't repeat or overuse tunes. All you have to do is set the mood you want for your site, and the plugin will come up with a playlist for you. It even uses an algorithm to track users' behavior and engagement level, to see which playlist is working best for your site. The goal is to add an emotional element to your content that will increase the length of time users spend on your site.
WP Audio Player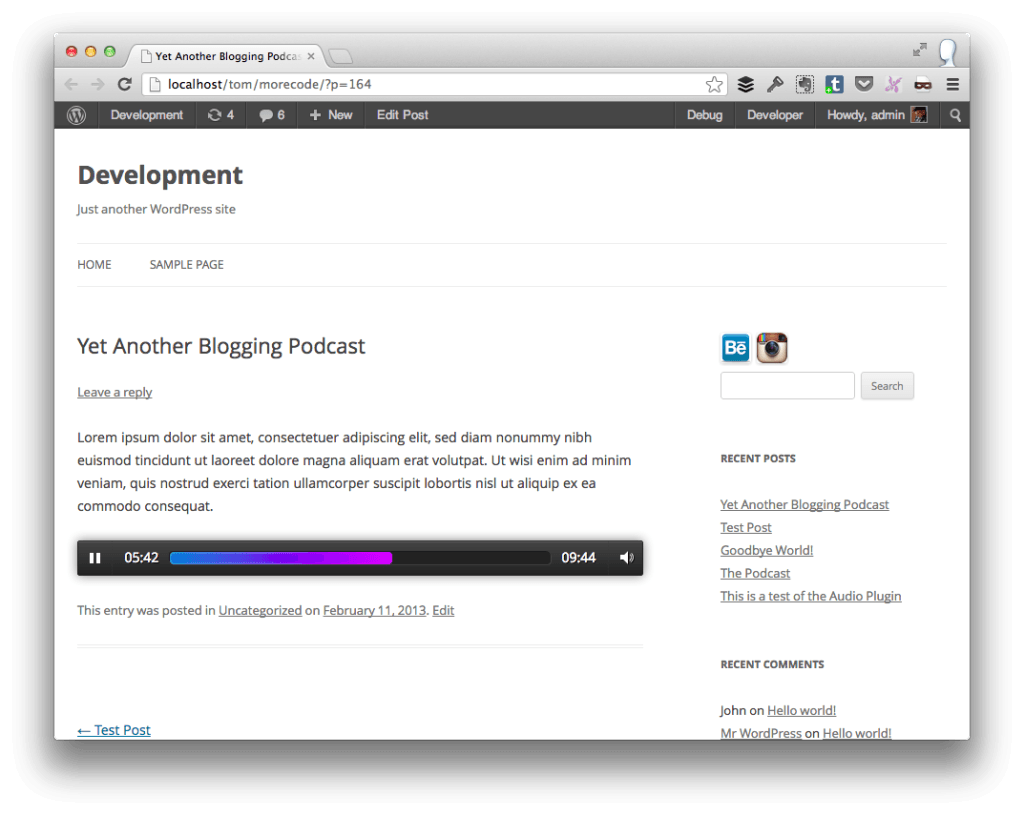 WP Audio Player is a plugin dependent upon the famous player from the gentlemen at Codrops that means to make it simple to incorporate a sound player in your post.
Conclusion
Implanting sound streaming into sites or websites are getting normal nowadays. Furthermore we all realize that media on sites or websites is set to stay and for furnishing better experience to our viewers, we generally discover the best tools. There are different explanations too for putting sound or music cuts for encountered web originators and musical artists, for example making more chances in expanding bargains and sign ups to their items and administrations. An online Music player is no rocket science for the site possessors. These site music players gives different capacities to manufacture your own particular Jukebox on your sites and generally significantly the way you need extending from diverse sizes to shades which-ever suits your web outline the most.