WordPress Portfolio Themes for Artists, Designers & Photographers
It is quite an effort to craft a portfolio website to display your creative work without proper WordPress portfolio themes. Definitely, WordPress portfolio themes with a high standard of design and functionality will reveal the best portfolio pieces to their target audiences. Such best WordPress themes for portfolio should be tailored for websites owners, like artists, designers, photographers, writers, etc. However, searching for the web design at the cutting-edge is a time-consuming and painstaking work.
How can such freelancers focus more on their creative business they want to showcase to the world? Today, this post will show you a collection of the top-notch WordPress portfolio themes.
Top 10 WordPress Portfolio Themes for Your Creative Business
If you are going to build a portfolio site, you may like to handpick the best WordPress portfolio themes. The following are the super-handy WordPress themes for artists, WordPress themes for designers, WordPress themes for photographers, etc. Now let's take the first step to start your creative business.
Framer – Individualized Theme for Artists, Designers and Photographers
To show off your latest design or photos or other creative portfolio pieces, Framer is the portfolio WordPress theme perfectly fitting your business. As one of the simple and clean WordPress portfolio themes, Framer is in a grey and white layout, emanating a little bit of high-tech sense. The parallax header enables you to customize with your own design work, also available for changing the accent color or blurring the image. Moreover, you can handpick part of your outstanding photos to display in grids on the homepage.
Framer is not only for the individualized showcase, it is also a portfolio theme with WooCommerce plugin. So if you are planning to craft a website for your portfolio business, then Framer is handy for you.
Other amazing features:
Fully Responsive Design
Useful widget areas and sidebars
Customizer for logo uploading, color scheme, footer text, etc.
FontAwesome Icons & Google Fonts support
Widgets for Social Media, Displaying Advertising
Live Customizer
GK Portfolio – One of the WordPress Portfolio Theme in Clean & Elegant Design
Less is more. So GK Portfolio comes for you. If you want to craft your portfolio website with taste, then you might prefer this clean and elegant WordPress portfolio theme. With the reveal and hover animations on the grids, GK Portfolio turns the static images into something more interesting. This will bring your design work to life. Besides, visitors can easily get the information about the photos while browsing them without a real click.
GK Portfolio is also one of the best free WordPress portfolio themes for photographer or designer. Costing nothing, the theme contains so many other features that contribute to your alluring and stunning portfolio website:
Responsive design
Fast-loading speed and tiny size
Clean typography seldom hogging the spotlight
Disqus support
Google fonts support
Social media links & icons
Pronto – The Best & Free Portfolio WordPress Theme
For those who prefer a grid photography showcase, Pronto, a free and clean WordPress portfolio theme, is to their taste. Pronto is such a minimal photography WordPress theme: tiny size in only a few KB, fast loading speed, no hidden link and malicious code. So the theme is guaranteed to display your photography work in seconds and rank your portfolio to the top of search engine.
Also, as a free WordPress portfolio theme, Pronto provides its unique features for photographers or artists. The theme has integrated with the smart built-in gallery, image resizing function and posts of WordPress. This allows users to manage the photos without worries. Furthermore, Pronto supports customization on accent color, site LOGO, Symple Shortcodes plugin, contact form, threaded comment and author archive pages.
If you are running a portfolio website for your stunning photograph work, don't miss one of the free & best WordPress portfolio themes, Pronto.
Ramirez – A WordPress Portfolio Theme with Two Demos
Consisting of two different portfolio demos, light design & dark version, Ramirez targets the users with various taste. Ramirez is a one-page WordPress portfolio theme for artists, designers and photographers. It is also a free CV theme make you and your portfolio work shining out from the crowd. With the bold and bright layout design, Ramirez allows you to display your talent and personality without reservation.
As for the portfolio showcasing part, the theme features animating reveal and hover grid. The animation also acts while the window is scrolled to the skill bars, timeline as well as other page sections. In addition, Ramirez enables color scheme and you can change it via the color panel on the left side.
If you are hunting a job for your designer career, Ramirez, the responsive and retina ready WordPress portfolio theme, is your good choice.
Artiste – Minimalistic WordPress Portfolio Theme for the Professional Creative
Just as its name implies, Artiste is one of the best WordPress portfolio themes for artists, certainly, other freelancers. The theme is so simple, clean and minimalistic that you can put less effort into organizing the layout. You can concentrate on placing your creative work instead of spending time touching a single line of code.
Artiste is a functional WordPress portfolio theme package. Also, the theme contains a ton of customization features. You can tailor your portfolio site LOGO, including the text-based ones, and the color scheme. Also, you have access to custom page templates, PSDs, different media, accent color control, widgets like Twitter, Flickr, Video, and more. As the best portfolio WordPress theme, Artiste supports fully filterable portfolio. The inbuilt gallery plays an important role in showcasing your creative work. Besides, the filter allows your visitors to browse your talent as they like. Moreover, the inbuilt SEO settings will help to hit the world with your prodigious design or photography.
To conclude it, the WordPress portfolio theme has most of the necessary functionalities to create a modern portfolio.
Fukasawa – A Pinterest-like WordPress Portfolio Theme
Through the creation of images, Pinterest allows us to have a full grasp of lives and stir up our interests. But what if creating a Pinterest-like website? As one of the most beautiful and free WordPress portfolio theme, Fukasawa is specifically designed for designers, photographers and collectors. Fukasawa offers a clean and cheerful layout with Jetpack Tiles Galleries, the masonry-like grids. So it will showcase your design or photography and make you feel as though you are right inside in the museum.
The Jetpack Infinite Scroll is one of the highlights of the free WordPress theme. When loading new posts or images, the page will automatically reload without interrupting your browsing. So it can immerse visitors in the smooth transition of successions of portfolio work. It seems like they will not reach the end of the image stream.
Other Main Features:
Code free and designer-friendly
Custom color, logo and sidebar
Image, video and gallery formats support
Responsive layout
Retina ready
CVPortfolio – A Free Theme for CV and Portfolio
A one-page portfolio site can help to express an artist/designer/photographer and his or her talent in minutes. CVPortfolio is such a free WordPress theme for those figures or freelancers to shine online.
The best and free portfolio comes with an elegant layout which allows users to showcase their personal information, and their portfolio work in ornamental blocks withal. Also, such animated blocks will switch among different portfolio categories. Thus your creative works give the effect of magic.
Besides, the neat and trendy timeline helps to show your personal experience of your life in art or design. What's more, this WordPress portfolio theme support virtually any screen size, including desktop, tablet and smartphone. The responsive design enables your portfolio spread rapidly on the main search engines.
To outshine all others from the masses, CVPortfolio is your must-have WordPress portfolio or CV theme for your website.
FLEXIT – A WordPress Theme for Photographers and Portfolios
Image what it must be like when the visitors feast their eyes on your extraordinary canvas-like photography work. The pleasing design of FLEXIT can definitely create such ambiance.
FLEXIT is one of the best responsive WordPress portfolio themes designed especially for photographers and portfolios. With the black canvas background, you can show off your images in rich texture. Of course, the background is customizable.
The portfolio theme package includes 3 Home styles. Each aims for different photo displaying results, like the horizontal slider and carousel wall. Also, you have access to 8 gallery types and 4 portfolio pages, totally customizable. Thus your creative images can shine on the photo walls.
Far more features are available:
Carousels support 6 different photo ratios
10 custom templates
Advanced typography options
2 blog layouts
3 custom widgets
Over 350 font icons
Over 40 color pickers, etc.
Onetone – Choose Your WordPress Portfolio Theme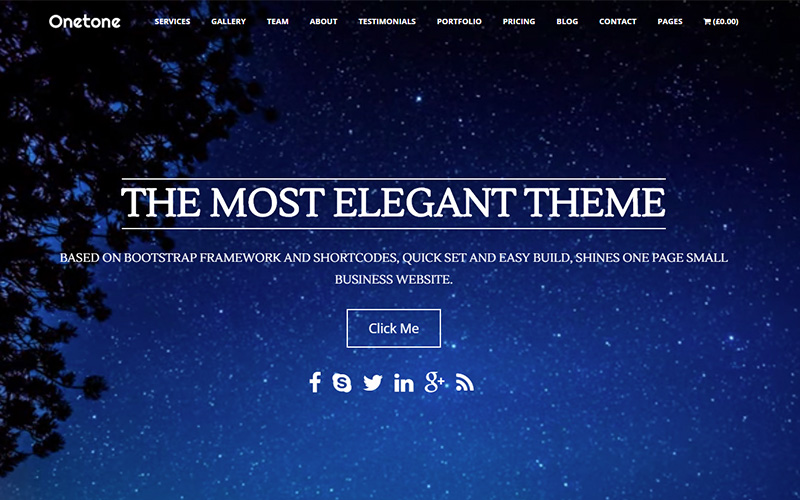 As a one-page WordPress portfolio theme, Onetone can publish unlimited photography, art or design work as you wish. Built-in slider banner and video banner, Onetone Portfolio WordPress theme allows you to showcase your talent in full width. What is more, it is also a WooCommerce support theme designed for those who are planning their work selling business. If these are not to your needs, you may like to have a quick scan of the feature list below:
Multi-purpose homepage sections: 15 built-in general sections, 12 pre-built patterns & 3 customizable patterns
Parallax Scrolling & HTML5 Video Background
Responsive to any devices with different screen sizes
Retina ready
Translation ready
5 free child themes
Bootstrap framework
60+ well-designed shortcodes
600+ Google Fonts
SEO friendly design
Read More: 6 Best Onetone Child WordPress Themes
Enclosed – The Best Portfolio Theme for Your Showcase
With a full-width photography work slideshow on the homepage, Enclosed makes your tremendous work speak for yourself. Enclosed is another responsive portfolio WordPress template adaptable to any screen on any device. The theme comes with a powerful portfolio. The standard categories give visitors a glimpse of portfolios while the awe-inspiring slideshows in each item showcase the very details.
Furthermore, Enclose features the following functions to your needs:
You can craft your immersive portfolio website with only a few of the shortcodes. With them, you can empower most of the elements such as buttons, pricing tables, google maps, progress bars, etc.
Enclose comes with tons of Google fonts matching your site to perfect. Also, you can customize the typefaces without touching any code and change the typography in headings, navigation and body.
You are allowed to customize the almost all the color scheme for your portfolio showcase. The tone elements include the basic color, the secondary color, the heading color, the navigation color and the body color.
The WooCommerce plugin is available on the portfolio theme. So if you want to create an online store, Enclosed is also the best WooCommerce WordPress theme to increase sales.
That's it. All of the above are the possible best or free WordPress portfolio themes for showcasing your talent work. Hope your art, design or photography work can stand out from the crowd with these WordPress portfolio themes.
If you come across any problems in crafting your portfolio website, or if you have no idea of how to start a blog or website, please inform us through the comment section below. To learn more about WordPress themes, please see MageeWP WordPress themes. Many thanks.